Casa das Pereiras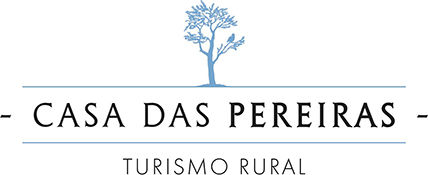 Casas das Pereiras is located south of Pico Island, in the small and picturesque parish of Calheta de Nesquim, 35 km from Pico Airport. Here we can highlight the unique beauty of the landscape and the richness of the historical and cultural heritage, described by Dias de Melo. Recently restored by the Pereira family (2018), it is today a space of refinement, privileged for rest and contemplation.
There are four separate spaces (one T2 and three T1) reserved by a wall and separated by an extensive lawned garden and a swimming pool (1.8 meters deep) flanked by wood and rolled stone. All outdoor space (about 1,300 m2) is illuminated at night. Each of the villas has a private furnished balcony with sea views and independent access to the pool.
In an open space concept we find the living room, dining area and kitchen whose walls facing the sea invite to the contemplation, through a tracery of windows, without curtains, that invades the whole space of light and the smell of the sea.
In the suites, all of them spacious, highlight the comfort of the extra-long beds and the details in the bathrooms with pampering, such as the offer of handmade oil soap with various aromas (cinnamon, fennel, mint and lavender).
Apartments
Villa (T1)
Villa divided into apartments (T1) with private balconies, facing the sea with independent access to the pool.
Capacity: 6 adults 
Beds:
- Bedroom 1 - 1 king bed
- Bedroom 2 - 1 king bed and 2 bunk beds
- Bedroom 3 - 1 sofa bed
Features:
✓ Breakfast (On arrival you will receive fresh home-made products (milk, coffee, tea, ham, cheese, butter, fruit jam, cereals and assorted pastries). Every day we leave fresh bread at your door).

✓ Daily cleaning  

✓ Free Wi-fi 

✓ Pool Towels 

✓ Free satellite TV

✓ Toiletries 

✓ International literature

✓ Baby crib

✓ Private parking

✓ Protected eletrical outlets

 

                                                                  Extra Services

Grocery Shopping ( Upon request, we will leave at your arrival your shopping list )

Dinning ( Children's menu, vegetarian and others )

Healing Massage ( Relax and restore the balance of your body and mind by the sound of the sea )

Extra bed Shuttle service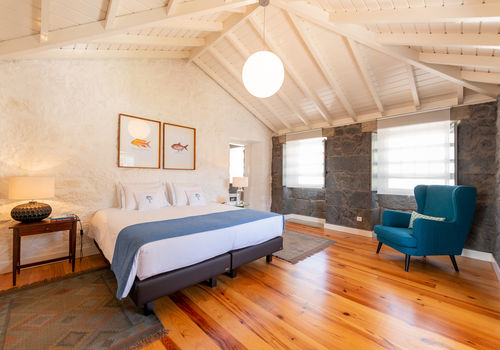 ---
Villa (T2)
Villa (T2) that provides all comfort and relaxation you need at your vacation and invites you to enjoy a natural environment by the sea.
Capacity: 2 adults
Beds: 2 twin beds or 1 king bed
Features:
✓ Breakfast (On arrival you will receive fresh home-made products (milk, coffee, tea, ham, cheese, butter, fruit jam, cereals and assorted pastries). Every day we leave fresh bread at your door)

✓ Daily cleaning 

✓ Free Wi-fi

✓ Pool Towels

✓ Free satellite TV

✓ Toiletries

✓ International literature

✓ Baby crib

✓ Private parking

✓ Protected eletrical outlets

 

Extra Services

Grocery Shopping ( Upon request, we will leave at your arrival your shopping list )

Dinning ( Children's menu, vegetarian and others )

Healing Massage ( Relax and restore the balance of your body and mind by the sound of the sea )

Extra bed Shuttle service